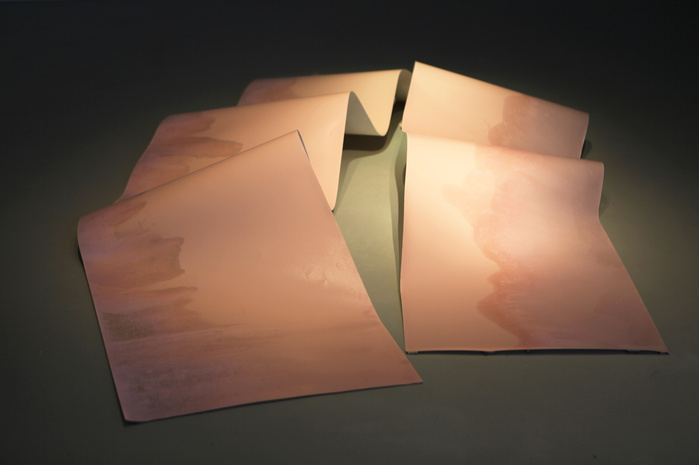 I fear large bodies of water. I move along the shoreline planning my route back before I've even arrived. Time passes and with it the tide relaxes. I lay my paper down and wait expectantly. On the 26th April 2014 three distinct waves were captured and documented onto undeveloped, photographic paper. Just 1 minute of the slack tide at Greenwich Pier, London. 1 minute of water flow at the banks of the micro-tidal Göta Älv River was documented on the 18th January 2015, shortly after I moved to Gothenburg. I chose a place where the river's body of water could eventually meet the North Sea. A sea that connects two places I call home.
This series documents the behavior of tidal waters and focuses on the destructive relationship undeveloped colour photographic paper has when it comes into contact with water. When removed from the water's edge a series of waves appear to have been recorded into the emulsion. Stone and sand that have made contact with the paper are detached, leaving traces of themselves. When left in daylight they continue to expose.
- Extract from ...For a Place is Utterly Subjective exhibition text.